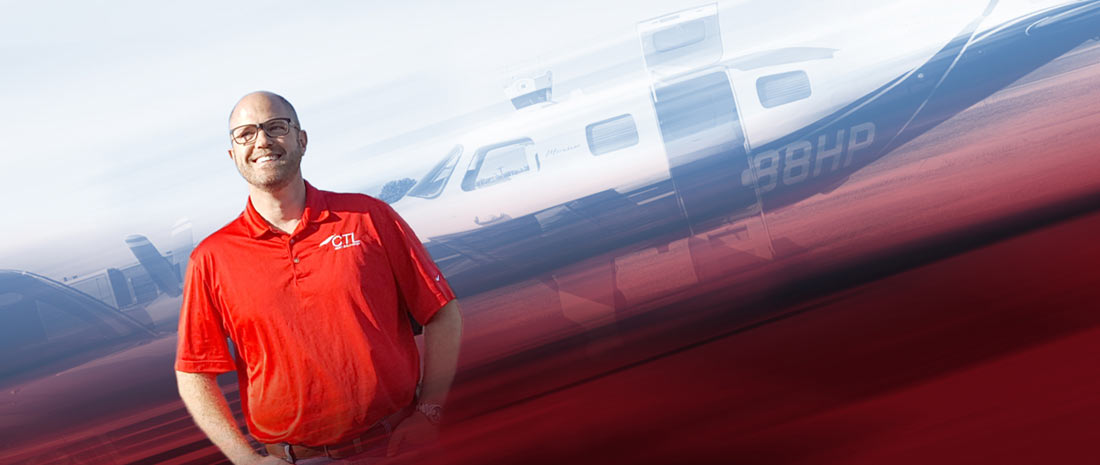 Patrick Rydzewski founded CTL Aero Solutions with a passion for aviation that began as a child and developed into a professional career that took shape in 1999. His industry experience includes successful roles as a Test Pilot, Demonstration Pilot, as well as positions in Operations, Sales, Marketing, and Business Development.
As an FAA rated ATP (Airline Transport Pilot) with over 3,000 flight hours, Patrick holds a World Speed Record, and is type rated in various turbine aircraft. After several years as a professional pilot, his focus was shifted away from full time flying and into a consultative approach to aircraft sales and ownership. Through direct OEM representation and their distributors, Patrick has sold and demonstrated many types of aircraft for Hawker-Beechcraft, Piper, Mooney, Diamond, and Cirrus Aircraft. This experience also includes management positions that helped transform a new, Dallas flight school into a profitable, and much larger shared ownership company.
His college education commenced at the University of Arkansas and was completed, with honors, at Henderson State University with a B.S in Aviation. Currently, Patrick resides in north Dallas, is a proud father, enjoys golf and running, and has completed half and full marathons.
Patrick brings strong traditional family values into the mission of CTL, which strives to maintain this same level of Commitment, Trust, and Loyalty to all of our current and past client relationships.

Rick Rydzewski co-founded CTL carrying the same grass roots that he has used to continuously ascend his 30+ years in professional aviation. He is a decorated U.S. Navy veteran with over 350 carrier arrested landings in F-4 Phantoms, and holds a BS in Aerospace Engineering.
Rick is an ATP with well over 8,000 flight hours, and is type rated in various Learjet, Hawker, Challenger, and Beechcraft turbine powered aircraft. Over the years his aviation career has evolved from carrier fighter pilot to certification flight test pilot for major aircraft manufacturers to flight department operations and management. In addition, Rick is an active Designated Engineering Representative (DER) Flight Test Pilot for the FAA. His FAA DER experience allows CTL to provide our clients with STC certification, regulatory, and associated customer support needs.
Collectively, he brings a wealth of domestic and international experience in flight test certification, customer acceptance and delivery processes.
Call Fly CTL to discuss your options: (913) 220-0948